It may not officially be winter yet, but most of us are bundled up inside and getting ready for that "holiday hibernation" mode. With short days and long nights, outdoor activities are limited, so being stuck inside may feel a little dreary. But do you know what can brighten up your winter evening? A roaring fireplace!
As your full-service fireplace store near Lancaster, PA, LanChester Grill & Hearth says it all in our name. Sure, we love our outdoor activities, but fireplaces and heating stoves are some of our most popular items—and for a good reason. Whether you're looking for a gas fireplace, wood fireplace, a retrofit, or an insert, we've got you covered. But today, we want to talk about one of our most innovative and custom fireplace brands—DaVinci—and why their Safe Touch Glass™ is perfect for your home.
What Makes DaVinci Special
When you walk into our showroom, it's very easy to pick out the DaVinci Custom Fireplaces. The award-winning design and style of these fireplace installations are part of what makes them attention-grabbing. Here are just a few things that make these fireplaces so special:
Flexible Venting: Since these fireplaces don't have to rely on a chimney for exhaust, they can be installed almost anywhere. Instead, they use a sophisticated power venting system that pulls combustion air into the fireplace and then exhausts and vents it back into the room.
Unique Configurations: When we say unique, we truly mean it. Certain DaVinci configurations allow you to walk around the entire fireplace or see it from almost any angle! This makes them great focal points in nearly any room, though they really stand out in large, open spaces.
Safe to the Touch: There's no need to worry about hands or paws getting burnt with this fireplace, which is why it's one of our favorites! And if you're wondering how that's possible, keep reading as we talk about one of the best features of DaVinci fireplaces.
DaVinci Safe Touch Glass™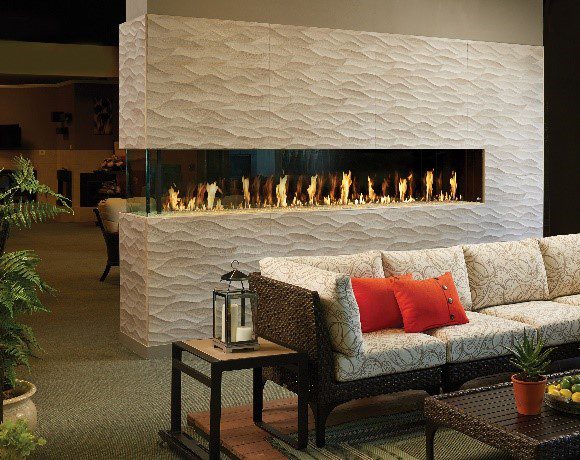 It's true that DaVinci fireplaces are more about adding style and light to a space rather than warmth. With that in mind, these gas fireplaces do still produce real flames, but thanks to the unique Safe Touch Glass from DaVinci, you can be right against the glass and not feel the heat!
This safety glass eliminates any potential risk of burn injuries, making it perfect for homes with children or pets. The glass is double-paned, keeping temperatures low, but the views crystal clear.
The best part? Because these fireplaces remain cool to the touch, they can be installed with zero clearance against any surface. Sheetrock, wood, drywall—you name it, and a DaVinci fireplace has likely been installed against it.
Ready to Brighten Up Your Space?
If you've seen the light on purchasing a DaVinci fireplace for your home or business space, give us a call! And if not, we highly recommend you come in and visit our showroom to see these beautiful fireplaces in action. We promise you won't be disappointed.
Contact us today to learn more about our DaVinci fireplaces or any of the other fireplace options that we have available.