A little while ago, we published a blog post about three big perks that DaVinci Fireplaces offer homeowners who may have never before considered installing a fireplace in their more modern-styled homes.
Today we're building off of that earlier article and looking at some of the key reasons why 2020 might just be the perfect time to add an exquisite DaVinci Fireplace to your home and life. Read on to discover DaVinci's most significant benefits, which will make hunkering down at home this year much more appealing. In fact, you may not want to come out again after the current pandemic situation has passed!
Makes Your Home Cozier During the Coldest Months
All fireplaces make your home cozy, of course—but if your home is styled to be more modern or contemporary, you may not want a traditional-looking fireplace. You know—the kind that looks like Santa Claus himself might pop out of at any second?
Additionally, your contemporary home may not have a traditional chimney available to vent a fireplace. With DaVinci Fireplaces—including the maker's exquisite Maestro Collection vertical gas fireplaces—that's not a problem. You don't need to have a chimney structure for installation.
But, isn't a fireplace without a chimney dangerous? After all, if you're in the market for a fireplace, you have likely encountered the debate about whether vent-free fireplaces are safe (spoiler alert: they're not). Luckily, the DaVinci Fireplace is different—these are not just decorative fireplaces, but high-tech gas hearth appliances that utilize an innovative power venting system for the exhaust.
This means that nearly anywhere you decide your DaVinci Fireplace will look best—in the middle of the room or installed in any wall—these modern statement pieces can make your home cozier this winter quite safely thanks to technology.
Integrates Into Your Home Automation System
Speaking of technology, DaVinci Fireplaces can be networked into your existing home automation system with a serial interface. While gas fireplaces have long offered the convenience of just being able to flip a switch to start up an inviting fire, DaVinci takes things a step further.
If you don't have an integrated home automation system today, that's okay too. DaVinci Fireplaces can also be installed with the easy-to-use TouchSmart™ wall control interface. Check out this manufacturer video on these award-winning controls, which allow owners to carefully choreograph heat exchange, a 10-hour timer, and a mood-setting array of LED lighting.
Provides a Beautiful Focal Point in Your Living Room…or Your Outdoor Kitchen
One of the most exciting features of DaVinci Fireplaces is the fact that they fit perfectly—and look breathtakingly beautiful—in nearly any room or area in your home. That includes your "outdoor living rooms," such as backyard kitchen spaces designed for entertaining.
Indeed, no matter where you choose to install your DaVinci Fireplace, it creates a focal point that will impress your visitors and become a point of pride for you and your family.
Award-Winning Designs That Will Amaze Guests to Your Home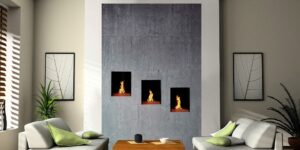 On the subject of impressing your visitors, DaVinci's latest innovation, known as Unity™, allows for up to five "portals of flame" to one single system. Visually, this means that you can essentially have five separate, smaller fireplaces installed near each other on a wall! Amazing, right?
Reviewers were so impressed that they gave Unity a "Best in Show" Vesta Award for the art of fire and best new hearth product. And DaVinci manufacturer Travis Industries (also the maker of Lopi stoves and fireplace inserts) had this to say: "This new technology allows users and designers to mix and match to create thousands of custom combinations, in configurations such as horizontal, cascading and more. Allow your imagination to run wild as you incorporate fire into your next project."
Ready to See the Latest DaVinci Customer Fireplaces for Yourself?
Here at LanChester Grill & Hearth, our showroom is the place to see one of the most extensive fireplace galleries in America, whether you're shopping DaVinci or one of the other custom gas fireplace brands on the market today. We invite you to stop by and visit us in Gap, PA—or check out our 360-degree virtual tour here on our website!
We also offer in-home consulting to make your fireplace dreams a reality—get in touch and talk with our friendly experts today.