As the days get shorter and the nights get colder, many people start hunkering down to prepare for winter—especially if you're a spring and summer-loving kind of person. But if you love fall and the holiday season, you know that now is the perfect time to wipe down your patio fire pit and get ready for cozy fire weather!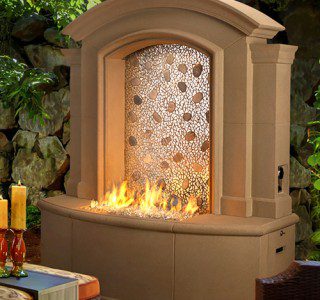 If you already have a fire pit, it's likely one of your most beloved backyard features. But if you've found yourself recently searching "fire pits near me," it may be time to breathe a little more life into your outdoor living space this fall.
At LanChester, we love entertaining outdoors in the autumn months, and nothing makes it better than a few backyard fire features! Keep reading to learn about some of our favorite ways to bring some warmth to your outdoor spaces this season.
Decorate with a Theme
Many families decorate their homes around the holidays like Christmas or Thanksgiving, but what about for the entire season? Planting some fall flowers like mums or asters can really brighten up the space around your fire pit and make it more inviting.
In combination with the changing leaves and blooming flowers, a crackling fire pit can come to life by complementing all of the beautiful colors of fall.
Create Cozy Seating
To make your fire pit area cozier for hanging out, make sure you add some comfortable seating options for you, your family, or guests. Instead of using typical folding chairs, why not try adding some cushioned deck furniture like a couch or loveseat? Toss in a few throw blankets, and you're on your way to warm, cozy bliss during those chilly fall evenings.
Get Creative with Lighting
While a fire pit provides ample lighting in itself, the surrounding area may be a bit dark, depending on its placement. If your fire pit is away from your house, try adding some solar lights to mark a path and encircle the area to make it feel more welcoming.
If you have a patio fire pit or a fire pit near your house, try getting creative with some tea or torch lights to make the area feel cozy and magical.
Host a S'mores Party
Entertaining outdoors in the fall months is one of our favorite pastimes here at LanChester. Whether that means grilling over an open fire or having a nice gathering with friends, your options are endless. But one of our favorite outdoor activities is having a s'mores party!
You can make it as involved or simple as you want, but we love setting up a "s'mores station" near our fire pit that has all the needed ingredients laid out already. It's incredibly fun to add other non-traditional chocolates to your s'mores and see what delicious creations you can come up with!
Upgrade Your Fire Pit
Do these fire pit ideas sound appealing to you, but you don't think your fire pit is up to snuff? If so, it may be time to look at upgrading your fire pit to something more permanent.
Here at LanChester, we have a wide variety of fire pits available for you to choose from. Whether you want a built-in gas fire pit that attaches directly to a gas line or just a more upgraded and portable wood fire pit that looks more put together, we have something for you. We work with a wide range of budgets and needs, so contact us for more information or stop by our showroom to see what we can do for your backyard this fall!