If you're an "old pro" at grilling, you may be wondering if you should also purchase a smoker to infuse your favorite meats, like brisket, pork roasts, and turkey, with that smoky flavor that makes barbeque so delicious. And while we offer some premium purpose-built smokers here at LanChester Grill & Hearth, we want to turn your attention to an alternative that may just be a little more versatile—grilling with wood chips!
A little while ago, we published an article about getting started with grilling, which focused on choosing your ideal grill setup, preferred fuel type, and more. In that post, we talked about influencing the flavor of your food through the use of wood chips or pellets for smoking meats and more, potentially on the grill you already own.
Today's post offers a closer look at how to choose between some of the different types of wood chips available. We'll also discuss wood pellet grills, as well, which allow you to use wood as your primary fuel source for grilling all the time.
Grilling with Wood Chips: It's All About the Flavor
So, why would you want to grill with wood chips versus (or in addition to) charcoal or gas? Let's answer that question with a question. Have you ever enjoyed the perfect barbeque? Pulled pork or melt-in-your-mouth ribs or even a delectable smoked turkey leg?
If so, you've probably wondered how to recreate that unforgettable flavor experience in your own backyard for family and friends. One of the secrets is incorporating smoking wood and cooking "low and slow" to allow that smoky flavor to fully penetrate the meat. And wood chips help you achieve that perfect smoked meat taste, right on the grill.
Choose Your Preferred Wood Type
It's important to remember that there's a wide range of different types of chipped wood to choose from, which will enhance your grilled food with subtly different tasting notes.
These are five popular kinds of wood for smoking, though there are many more, as well. Additionally, if you want to get really creative, you can combine wood chip types to mix smoky flavor profiles!
Oak
Perhaps number one in wood chips for grilling, oak wood burns long and evenly. Your food will have a slightly nutty or traditionally woody flavor. Oak can be excellent in combination with fruitwoods.
Cherry (and other fruitwoods)
Wood from fruit trees, like cherry and applewood, will give your food a slightly sweet and smoky flavor that's hard to resist. Fruitwood chips work well with fish and poultry, where some of the heartier hardwoods may overwhelm that lighter, leaner meat.
Mesquite
If you like the taste of sage, mesquite wood chips can be a great choice—particularly for grilling beef. Know that mesquite burns quickly and very hot. You'll usually want to burn it down to coals first and smoke over the more indirect heat those provide.
Maple
Think of making maple syrup—this is possible because maple wood contains a high sugar content in the wood. Use maple wood chips when you want to give smoked meat a mildly sweet flavor. This wood is also rather dense and creates quite a bit of smoke while not burning particularly fast.
Hickory
Hickory wood chips work well with heavily seasoned food and are excellent for a beef barbeque or even lamb chops. They lend a similar flavor to oak wood chips—nutty and woody—but it tends to be more pronounced.
But Don't I Need a Smoker to Grill with Wood Chips?
While having a purpose-built smoker may rise to the level of a necessity for true smoked meat enthusiasts or grillers who are routinely cooking for a large crowd in their full-featured outdoor kitchen, the answer to this question is generally no.
Many gas and charcoal grill models allow you to use wood chips, but you'll likely need to purchase some special accessories or make sure your particular grill has the right features installed.
Grilling with Wood Chips on a Charcoal Grill
If you prefer the experience of grilling with charcoal as your fuel source, grilling with wood chips is often as simple as adding a layer over your lump hardwood charcoal or briquettes, whether you're direct grilling or cooking with indirect heat. When the smoke stops flowing freely, just replenish your chips.
Note that having a charcoal grill with a well-sealing lid is ideal for smoking with wood chips. The versatile Big Green Egg charcoal grill is one of our favorites, and it comes in an array of sizes. When you're ready to level-up your charcoal grilling game, stop by our showroom and check out the Big Green Egg grills!
Grilling with Wood Chips on a Gas Grill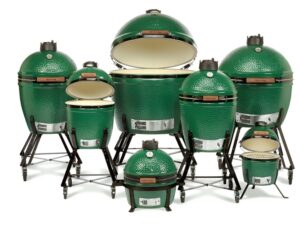 Smoking meat with wood chips on a gas grill can be a little more complicated than on a charcoal grill, but it's definitely worth the extra work. The main thing to know is whether your current gas grill has dedicated space for wood chips. If it does not, you'll need to purchase an accessory smoker box designed to sit directly on the burner or on the grill grates.
It is also possible to make a foil pouch for your wood chips, though we recommend using a smoker box or the built-in wood chip burning feature on your grill for the sake of safety and more consistent results.
When grilling with wood chips on your gas grill, remember that you should resist the urge to soak the chips in water before burning them. Burning wet wood chips produces steam instead of creating the smoking wood you need to actually flavor your food. Look for blue smoke beginning to emanate from the back of your grill—that is your clean cooking smoke, which is your signal to start cooking your food.
Wood Pellet Grills are Another Great Option
In that previous article we mentioned above, we also introduced wood pellet grills, which offer a unique alternative to traditional charcoal and gas-fueled grill models. Wood pellet grills take the tried and true campfire cooking concept and make it more convenient. By using 100% natural hardwood pellets, this newer technological innovation makes these grills possible and takes the mess out of cooking/smoking over a wood fire.
So, if you enjoy the smoky flavor of grilling with wood as your fuel source, you might consider a wood pellet grill instead of grilling with wood chips on another fuel-type grill. Here at LanChester, we recommend Memphis Wood Fire Grills, though other makers are getting into the wood pellet grill market today, too.
Ready to Get Grilling with Wood Chips, Pellets, and More?
Here at LanChester Grill & Hearth, we have the premium grilling products and the expertise you need to make your outdoor living experience that much more enjoyable. When you're looking to take your grilling to the next level and create delectable smoked meats at home, stop in and see us for wood chips, accessories, and friendly advice—or maybe even a brand new grill!