Summer is the time to be outside and to make the most of your backyard. Seasonal improvements are a great way to awaken the splendor of your outdoor living space, and to add long-term value to your home. Each season brings with it a different set of needs and restrictions, but for the summer, it's all about extending the season and your ability to enjoy yourself outdoors well into the night.
This means lighting and warmth will play a huge part in your space's ability to keep you comfortable as the temperature drops in the evening, and during the latter months of summer.
1. Firepits

Summer firepits come in all shapes and sizes, which is perhaps why they're so beloved in the first place: their versatility. From simple stone and metal pits to more intricately designed tables, stands, and features, firepits can be designed to suit almost any décor or homeowner's taste. You can choose between portable or built-in firepits, which is nice in an age where the kind of outdoor living space goes between stationary and modular.
With a firepit, you can easily extend the outdoor season well into the early months of winter. Their warmth, light, and attractive designs can help modernize a rustic outdoor space or emphasize the charm found in a roaring fire. You also have different options for fuel, which makes adding one to your space a much more accommodating idea.
2. Fireplaces
Outdoor fireplaces are similar to built-in firepits in a way. Outdoor fireplaces, however, feature all the basic elements of their indoor counterparts, including the chimney and flue. These are a great addition if you've already invested significant space, time, and money into an outdoor living space or kitchen, mostly because they can be blended with the existing décor to create a seamless look.
Like firepits, fireplaces can be equipped to run on different fuel sources, so depending on your needs you should be able to find one that works for you.
3. Lighting
Lighting can sometimes be an afterthought when it comes to outdoor living spaces. Most people simply enjoy the space while there's light out and retire when it gets dark. By installing lights, there's no limit to the activities and fun you can enjoy in your private backyard getaway.
If you have access to outlets or can perform electrical work, wired lights are one possibility. The variation in illumination, wattage, and color offered by these is what makes them an obvious choice. For those without access to electrical hookups or those who want a traditional, even slightly festive kind of lighting, there are torches.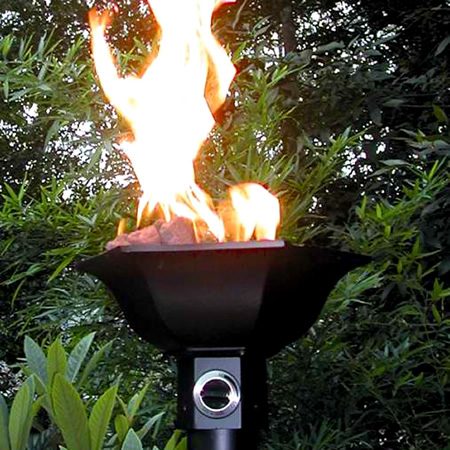 Torch lighting can be done a number of ways, including gas and oil. These lights can be either fixed/mounted or freestanding, allowing them to be moved to suit whatever arrangement you have. A bonus of using torch lighting is their ability to provide some degree of warmth to those around them, so it's not a bad idea to install a few of these in and around your outdoor living space.
4. Grills
You can't have a summer without a cookout! Grilling goes hand in hand with the summertime, so it's important to make sure you're ready for your first big BBQ of the season. If you aren't cleaning up your grill or upgrading, you're missing out—grills are some of the best ways to get your summer cooking done.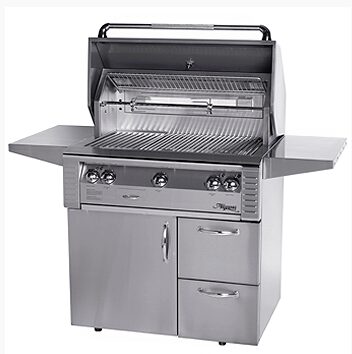 The variety of grills, their fuel sources, and their sizes makes it possible to cook everything from hot dogs and hamburgers to bread, pizzas, and whole chickens. Choosing the right grill is about identifying the kind of menu you're thinking of, and how many people you think you'll be entertaining on any given occasion. The best way to pick your grill is with longevity in mind. You want something that will last you for summers to come—something that won't break down or require parts every other month to keep going.
A grill should be built tough, and to produce the kind of food you have your heart set on creating this summer. Not surprising, grills come in many flavors of fuel source, which means you can choose between pellets, wood, or gas to suit your needs.
5. Pergolas
For those extra sunny days outside, whether it's by the pool, your deck, or your special outdoor living space, a pergola can give you just the right amount of shade without completely putting you in the dark. Pergola styles vary but there are ample ways to customize these structures—the material, accents, size, and color—that they can be designed to complement any number of settings. Owners can utilize curtains, canopies, or even sidewalls to create a more enclosed space, too.
Consider whether you want to add long-term value to your property, because this can dictate whether you install built-in fixtures, such as a fireplace versus a firepit you could take with you if you ever move. Just be sure to design the summer outdoor space you and your family will treasure, because it's probably where you'll end up spending most of your time.