Designing an outdoor space that ticks all the boxes on your checklist is important. After all, you probably want to spend a lot of time enjoying it with friends and family. The perfect outdoor living space is one that meets a range of needs while staying timeless, which means toughing it out 24/7 so you don't have to miss out on using it.
Getting the hang of the following 7 key areas of creating a dream outdoor living space will really make the task an effortless one.
1. Invite with the right seating
Comfort is the first part of establishing any living space, so seating should be number one on your priority list. Think about the theme or function of the outdoor living space first. Is it for lounging, entertaining guests, or hosting dinners? Whatever you plan to be doing in your space, making sure that you have the right kind and amount of seating is paramount to creating a successful outdoor living experience.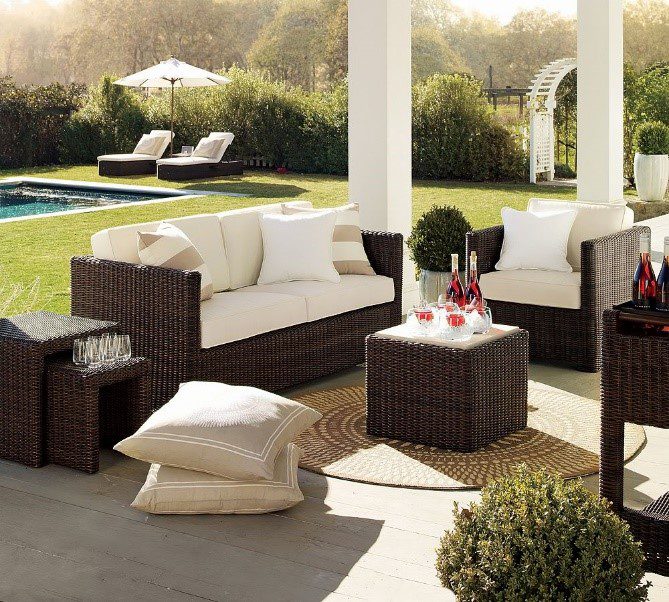 Stools, large comfy chairs, benches, and cushions/pillows can all be used to create a livable outdoor space, either individually or when used in combination. It really all depends on the style and function you're going for; and no matter what you decide, don't forget that you should be mimicking the comfort of living in the space, which necessitates having a place to take a load off and relax!
2. An outdoor kitchen for entertaining
Any outdoor living space can benefit from some element of a kitchen, whether it's a full bar, a sink/counter/grill combo, or even a mini-fridge—you want to have something that makes prepping your favorite foods quick and easy. This is especially important if you're designing an area where you'll be cooking food or entertaining dinner guests.
Remember, outdoor living is about living and you can't live there if you have to constantly go into the house for drinks or something to eat. It's also not that hard to accommodate something to make sharing a bite with friends, or keeping the good snacks all to yourself, easier. Just consider simple DIY elements like an ottoman that happens to double also a beverage cooler.
3. Light the way
Lighting is often the defining factor of larger, or more heavily used outdoor living spaces. After all, if you can't see the people you're spending time with, or what you're doing, the space isn't really living up to its purpose or function.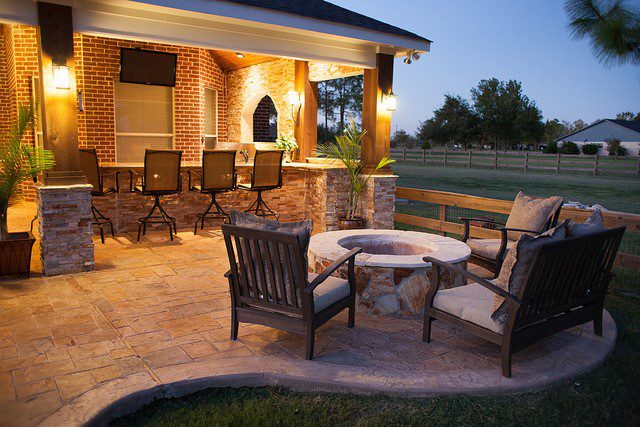 Lights—whether you go for light fixtures, freestanding lamps, a fireplace, or torches—are responsible for creating atmosphere. Certainly, the ambience offered by a lamp differs from that of a roaring fireplace, so the key is to decide what sort of effect you're going for. If you're more interested in function or form, you could stick with light fixtures. However, fireplaces or firepits can be used to create attractive focal points of outdoor living spaces; and if you want to consider warmth and setting a proper atmosphere, installing a hearth could do the trick.
4. Make it all-weather
Night or day – rain or shine.
As briefly mentioned before, fireplaces have the ability to add some warmth to your special outdoor space, giving you more time to enjoy it throughout the year. A truly enjoyable outdoor living space is one that lasts for more than one season, or at least consistently throughout a single time of the year, whether it's night, day, rain, or shine.
Weatherproof furnishings are a good start, as are the introduction of light sources. A covering like an awning can also be used to contribute to a sense of all-weather design.
The goal with any successful outdoor living space is to make it something you can enjoy year-round, or as close to year round as possible.
5. Remember the coziness factor
Comfortable. Cozy. However you choose to spin it, you should love being in your outdoor space. Coziness boils down to style and function, so how you decorate and utilize seating,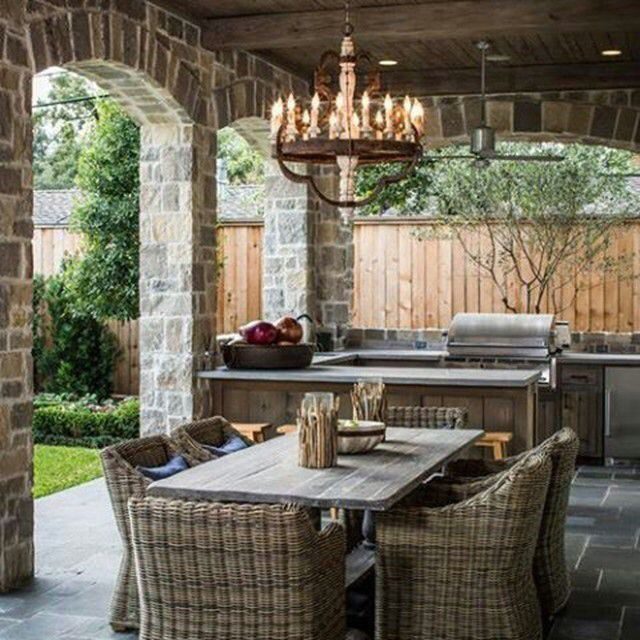 lighting, etc., will determine how comfortable you and guests are when enjoying your dream outdoor living area. Small accents can help boost visual appeal. Items such as sculptures, plants, water features, or colorful paint jobs can all contribute to creating a place you find utterly cozy.
You can also try to create levels or "zones" that are clearly defined by barriers such as walls, curtains, pergolas, or plants. Even steps to a different level of your yard or deck/patio can be used to create loose boundaries, making the outdoor living space its own unique area.
6. The right color palette
Using textiles furnishings, and other accessories, the right color palette can bring themes to life and tie the different areas of an outdoor space together effortlessly. Coordinating your décor can make the space more inviting and really helps to set the tone for gatherings.
You may opt for a certain kind of pattern or color depending on your surroundings. For example, bold and oversized prints can hide mishaps like spills or natural wear-and-tear from being outdoors. If you wanted to get really coordinated, you could match the color of cushions or pillows to the color of your home's exterior.
7. Incorporate nature through materials and plants
It just wouldn't be an outdoor living space without the right flora to liven things up. You can draw colors from the surrounding area or install new blooms or plants that complement the other elements in your outdoor living space. Flowers add color without much effort and have the power to integrate a more modern design with a particularly wild outdoor space.
Outdoor living spaces are just that: spaces built outside that have the same functionality and comfort as any indoor living space. There's definitely a strategy to designing the perfect outdoor area, but it's also quite manageable if you follow our quick tips.