Chapter 5 — Outdoor Kitchen Guide
Even though summer is winding down, and you may not want to begin building your outdoor kitchen yet, now is the perfect time to start the brainstorming process. Over the last few months, we've covered several blog topics to help you get your outdoor kitchen started the right way. You should now have almost everything you need—from choosing kitchen appliances to establishing your kitchen zones.
At LanChester Grill & Hearth, our goal is to make this as easy as possible for you and guide you every step of the way. In this final chapter of our outdoor kitchen guide, we provide a few visual examples of outdoor kitchen design ideas that will jump-start your creativity. When you're ready to get started with your outdoor kitchen, be sure to call the professionals at LanChester Grill & Hearth!
A Covered Patio
Have you considered what outdoor kitchen features you want for your space? If your outdoor kitchen will be an added living space in your home, you're going to want to provide shade for your friends and family (and yourself!) when you're working on your outdoor cooking. A covered patio can be over your dining area, cooking area, or both. Here are a few examples that we really love: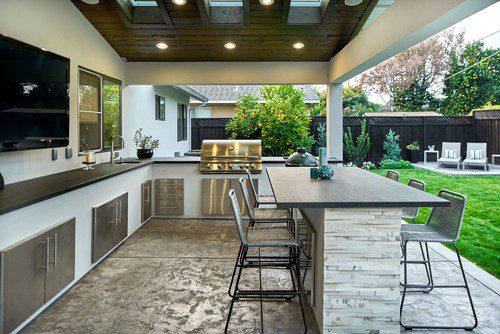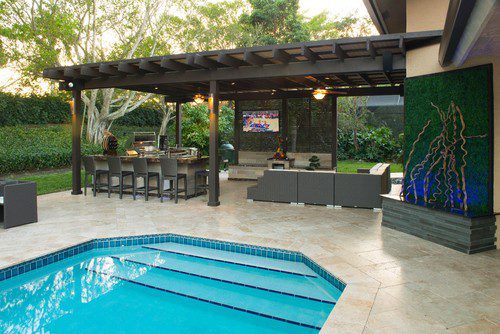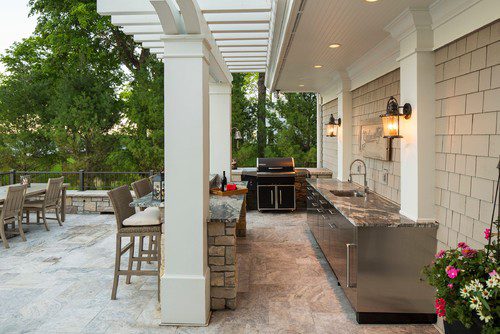 Creating a Focal Point
Just like with your indoor kitchen, you want your outdoor living space to be stylish. Instead of picking out every color, piece of furniture, and finishes that you like, we suggest picking one or two main pieces that will become the "focal points" of your outdoor kitchen design. Creative backsplashes, colorful furniture pieces, large accessories, or floral arrangements are just a few options. Here are a few examples we think really pop: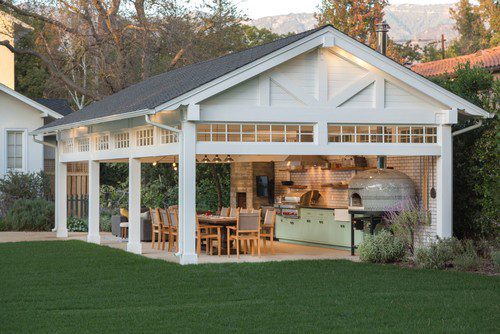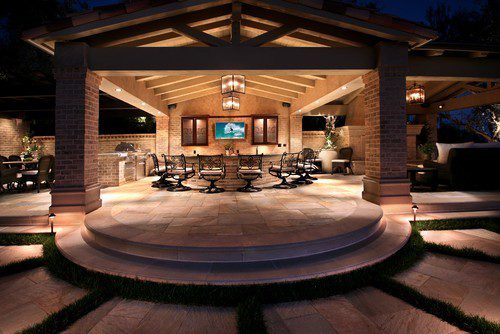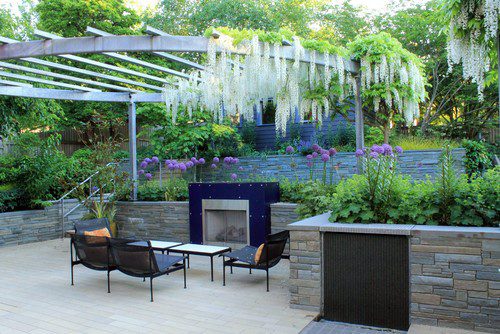 Maximizing Your View
Your outdoor kitchen design should be a hot spot in your home that you want to show off. When you step outside into your little private oasis, the view should take your breath away or have you sigh with relief. Don't let poor design choices get in the way of enjoying that view. Check out a few designs that have beautiful views without sacrificing any privacy: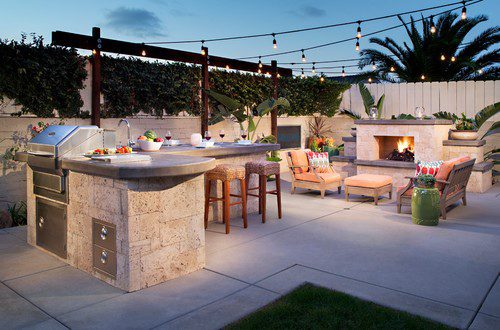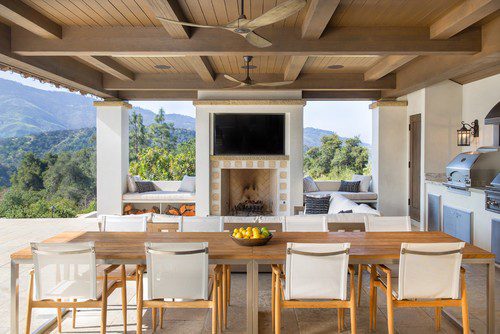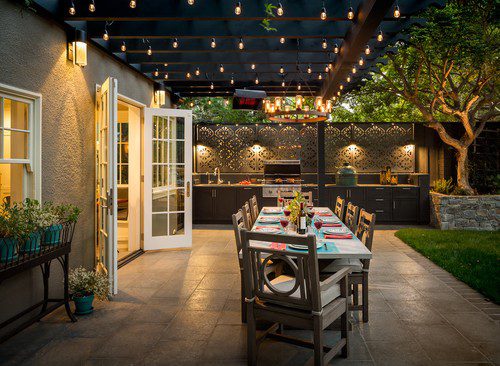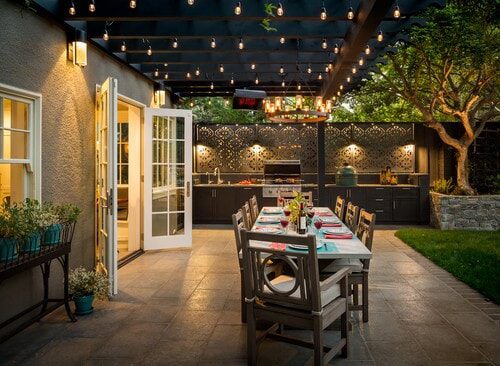 Bar Ideas
When you're coming up with your outdoor kitchen ideas, you need to determine how you will most often use the space. Having a bar can serve as a great (and functional) addition to the living space if you're often entertaining. We love some of these designs and hope they inspire you as well: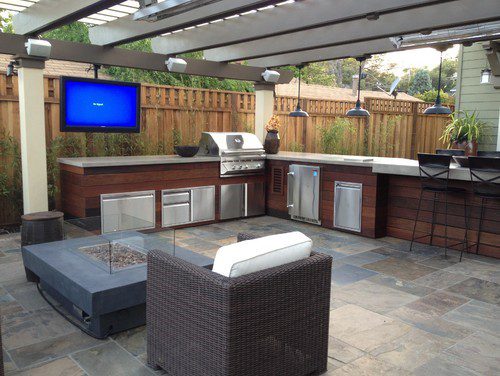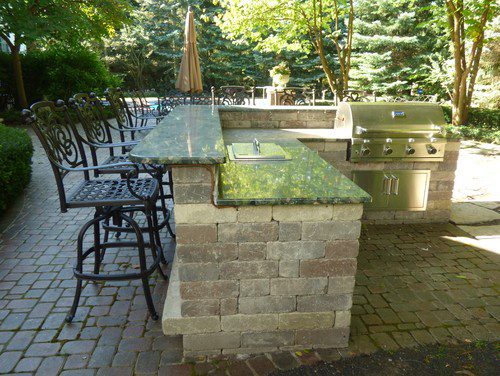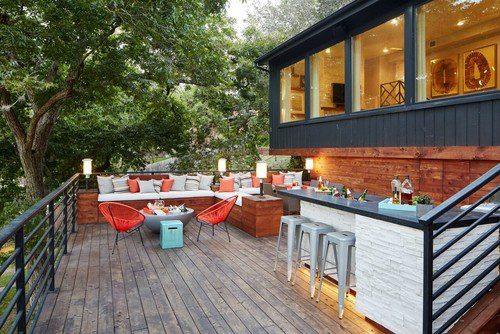 Dining Spaces
No kitchen is complete without a place to enjoy all of the delicious food you just cooked. Your outdoor dining space will likely be close to your outdoor cooking space, but it still needs to function in outdoor weather. Make sure you pick out furniture that can withstand the elements but still complements your aesthetic: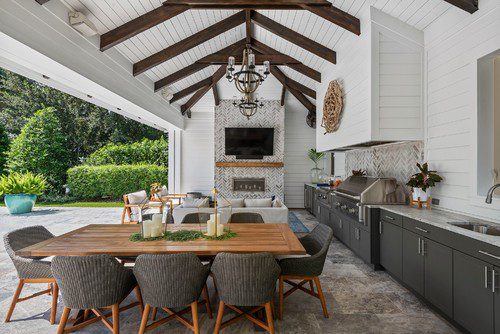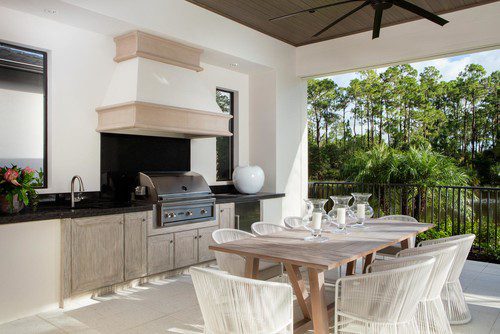 Choosing a Theme
Now that you have a few photos for inspiration, hopefully, you're on your way to narrowing down your outdoor kitchen ideas into a cohesive look. To achieve consistency in your outdoor kitchen design, you must decide on a theme or style that you are really drawn to. If you're not sure what that is, we're here to help! Here are a few popular décor themes that we think look best in an outdoor living space.
Rustic
Rustic is a very broad term in the design world and can mean anything from a log cabin to something a little more refined, like a charming farmhouse. Typically in rustic designs, you'll see a lot of natural elements like wood or stone, but LanChester Grill does not recommend wooden cabinets for safety reasons.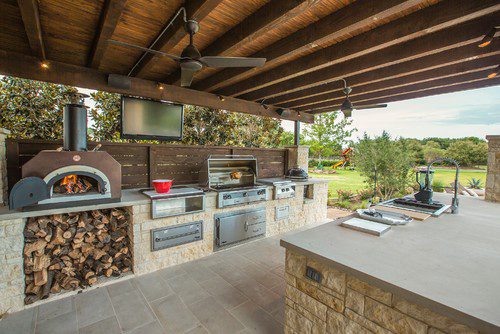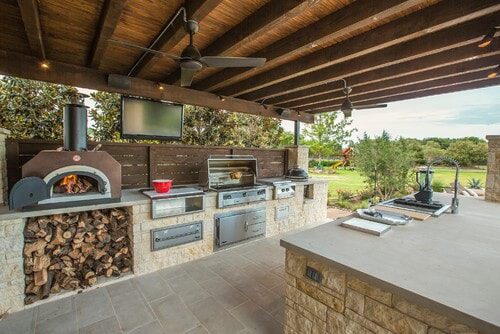 Try incorporating handmade Lancaster County furniture and fire pits into your design and use mostly natural colors. These elements are likely a little rough around the edges, but they can be charming like the example above when done right. Adding a bit of greenery will brighten up the space, but the idea is to keep the overall feel warm, cozy, and inviting.
Modern
It's all about striking a balance between the function of your kitchen and the aesthetics. If you love clean lines and bold color choices, modern design may be right for you. Free of clutter and typically using neutral colors with a bold accent, incorporating a contemporary look into your outdoor kitchen can make a statement.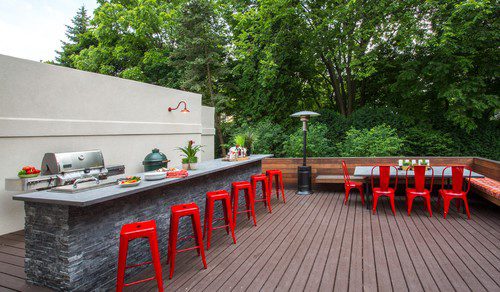 We love the red in this outdoor kitchen design since it adds a bit of flair. It's trendy, has an open concept, and functions as an excellent space for entertaining without sacrificing that modern aesthetic.
Italian
Italian design can lean into two different directions—modern and traditional—but both tend to look very grand and opulent. Opposite of the minimalism of typical modern designs, traditional Italian décor tends to be very ornate. Think terra cotta, granite, and stone for a classic Italian style, with open-air spaces to let in the most light and "airiness."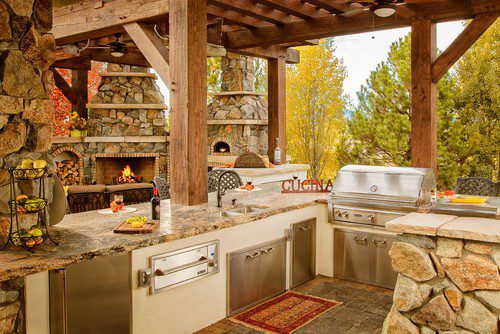 Slightly rustic but still modern and elegant, an Italian outdoor kitchen design can really help to transform your outdoor space. Plus, a grill area blends seamlessly with this design. Consider adding stone and wood elements for warmth as design inspiration.
Tropical
Transforming your backyard into the perfect getaway is one thing, but if you're looking to turn it into a beach oasis, there are a few design tips to take into consideration. It doesn't have to be all palm trees and ocean-themed décor (unless you want it to be), but we suggest creating that atmosphere with natural and organic elements instead. If you really want to emulate that beachy vibe, try using crisp colors—like white—that are very refreshing to the eye and brighten up a space.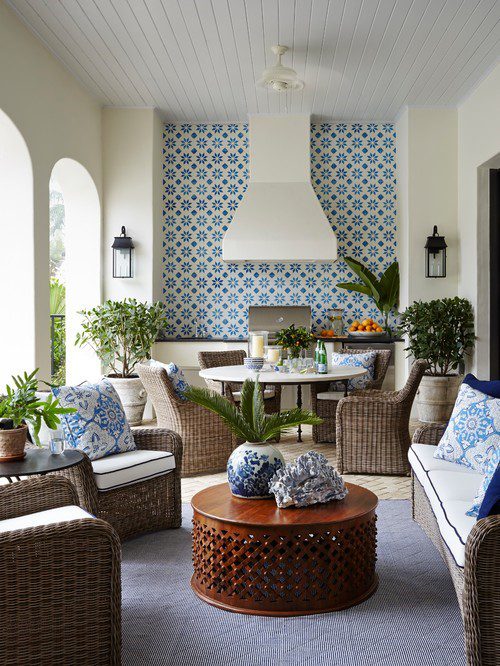 Think rattan furniture mixed with bold patterns and bright colors. Adding greenery to your space or other pops of color will also help in creating that perfect tropical vibe.
For Help with Your Outdoor Kitchen Design, Turn to the Professionals at LanChester!
No matter what you decide to do for your outdoor kitchen design, it's important to remember that LanChester will be with you every step of the way. Our design team makes the entire process as easy as possible for you while still providing practical solutions and a pressure-free experience. Contact us today to get started and learn more, or stop by our showroom for a tour!