Get a taste of the best with LanChester Grill & Hearth's annual Showcase event! This event is the perfect opportunity for you to experience the best of everything we offer! We are excited to give you a tour of our showroom and outdoor displays, along with live demonstrations from leading grill manufacturers. Also, there will be food, fun, and discounts on fireplace and grill purchases during the Showcase! So come join us Friday, May 5th from 10:00 am to 8:00 pm at our location, 832 Pequea Ave, Gap, and take advantage of all the great offers!
Showcase Discounts include:
• Up to $600 off the purchase of any fireplace or stove.
• Save up to $2,000 on a Memphis Wood Fire Pellet Grill by purchasing a 2021 model
• 10% off all other grills
• GIVEAWAYS: 24" Patina Smokeless Breeo Fire Pit and Vermont Castings Stove Banks.
Our event features an array of mouthwatering food hot off the grills, such as pulled pork, filling, and gourmet baked beans. Those with a sweet tooth are also in for a treat, with donuts and soft-serve ice cream available. And little ones can enjoy s'mores right on the firepit! Plus, we're featuring new specialty items like cream cheese and jalapeno roll wrapped in sausage and bacon—make sure to grab a slice at 4:00 pm! You won't want to miss our exciting live demonstrations and tastings throughout the day. At 12:00 pm and 6:00 pm, you can even witness and sample smoked brisket hot off the grill or indulge in ribs at 1:00 pm and 5:00 pm – all part of our full meal experience!
During our Showcase, we will proudly announce two new products to our lineup: the DaVinci Timber Fire Fireplace and Kalfire E1 Electric Fireplace! These innovative fireplaces combine style and functionality, allowing you to enjoy warmth and ambiance within your own home. The DaVinci Timber Fire Fireplace features a sleek and contemporary design, with the bonus of being child-friendly thanks to its safe touch glass. Meanwhile, the Kalfire E1 Electric Fireplace provides an energy-efficient option that's sure to warm up any room. Both products are perfect for adding extra character and comfort to your living space—so why not look at them during your visit?
Innovative Luxury Meets Rustic Elegance—New DaVinci Timber Fire Fireplace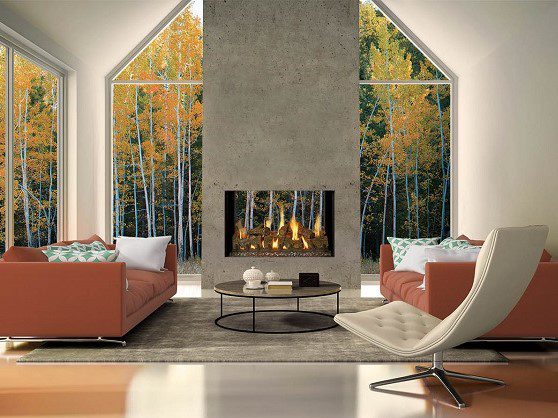 DaVinci Timber Fire fireplaces are captivating gas fireplaces available in four lodge-style single-sided and see-thru fireplaces. They feature an enormous, spectacular presentation of fire. All Timber Fire models boast innovation with DaVinci's HeatSmart Heat Exchanger, which allows for significant heat on demand! Massive hand-crafted Timber Logs are surrounded by tall flames, a heavy-duty steel grate, and realistic glowing embers to provide the ultimate rustic fireplace, while offering the advanced luxury features of a DaVinci Custom Fireplace. Be sure to see these beauties for yourself at the Showcase!
An Unparalleled Fire Experience—Discover the Kalfire E1 Electric Fireplace
The Kalfire E1 brings fireplaces to a whole new level. With its innovative design, the E1 is a sustainable electric decorative fireplace that will captivate your attention with its stunning flames. This high-tech fireplace looks incredible, and its flueless system makes it easy to install anywhere you like – no chimney or other installation required! On top of that, you can customize the fire settings – flame height, ember bed, flame color, and even sound – to create the perfect atmosphere in any room. Enjoy all the beauty of a real fire without any of the emissions – with the Kalfire E1, the possibilities are endless! You can see, hear, and feel the fire, which creates the perfect ambiance. See them and all their splendor at our Showcase!
Memphis Wood Fire Grills: The Finest in Pellet Grills
Are you ready for the next level of grilling? Then a Memphis Wood Fire Grill is just what you need to enhance your backyard chef status! From pork chops to pies or burgers to brisket, these pellet grills can do it all. Memphis Grills combine four cooking techniques (grilling, smoking, wood-fire searing, and convection baking), making it one of the most versatile and flavor-enhancing devices ever made. Want to take a Memphis Grill for a test drive? Now offering Memphis Grill one week in-home trials—Call for details at 717-584-9394!
Our experts at LanChester Grill & Hearth have the answers!
More Than Just a Pellet Grill
These grills have it all. Our Memphis Wood Fire Grills can cook at temperatures from 180°F to above 700°F, so searing meat just got easier! These grills also allow users to smoke, bake, roast, and sear food to perfection even when it is 10 degrees outside. Simply put, Memphis Pellet Grills do it all, and they do it well. Here are just a few of the benefits of choosing a Memphis Wood Fire Grill:
Wood Fire Flavor
Stainless Steel Construction
Versatility: Smoke, Sear, Bake, & Roast
Innovative Technology—Wi-Fi Capabilities & Downloadable App
Unparalleled Results
Engineered in the USA
Direct Flame Capability
No matter your preference for grilling, you are assured to find the right Memphis Grill to fit your home!
Choose from the world's top brands in grilling, outdoor kitchens, and fireplaces when you work with the experts at LanChester. Our team can help design and build your dreams! We have what you need to turn a space into your dream home, so let us help you with any questions about design, products, or other details to get you started! Sneak a peek prior to the Showcase to view our selection of fireplaces, grills, stoves, fire pits, and more and then talk to us when you get here!