Have you grown tired of the mess and hassle of your wood-burning fireplace? Would you love to add the ambiance, comfort, and beauty of a fireplace to just about any room in the house? A gas fireplace could be the solution for you!
Once shunned as fake imitations of the real thing, gas fireplaces have vastly improved in recent years. Gas fireplaces from Mendota are a prime example, combining stylish beauty and clean, efficient heat that we're proud to recommend to our customers every day.
If you're ready to ditch the mess and hassle of your wood-burning fireplace or want a fireplace that really makes a statement, it's time you discover the secret behind one of the best gas fireplace brands in the business.
What's So Special about Mendota Fireplaces?
If you've been underwhelmed by gas fireplaces you've seen in the past, you haven't seen a Mendota fireplace up close. Mendota understands that most homeowners are looking for that "wow" factor and they've delivered. Here are just some of the reasons Mendota is one of the top-selling gas fireplace brands at LanChester Grill & Hearth.
Custom-Built Luxury
Mendota luxury fireplaces are designed for homeowners looking for something better and more unique than the simple "builder box" fireplaces typically installed in newer housing, apartments, and condos. Mendota works with artisans to intricately design and hand-paint their log sets for unmatched realistic appeal, plus they offer endless design options to personalize your fireplace to your tastes and decor.
Old-World Craftsmanship
Every Mendota fireplace is built with the finest materials including 18 gauge aluminized steel for the outer casing, NeoCeram® glass and stainless steel burner systems. Plus, each firebox is continuously seam-welded and carefully hand-assembled for a lifetime of trouble-free service.
Mendota Fireplaces Utilize BurnGreen™ Technology
Our customers love the BurnGreen technology built into every Mendota fireplace that conserves fuel and protects the environment. Unique controls let you turn off the pilot and burners when you don't need them, adjust the heat output, turn the blowers on or off, and even turn off the rear burner overnight or on mild days.
Mendota Style Options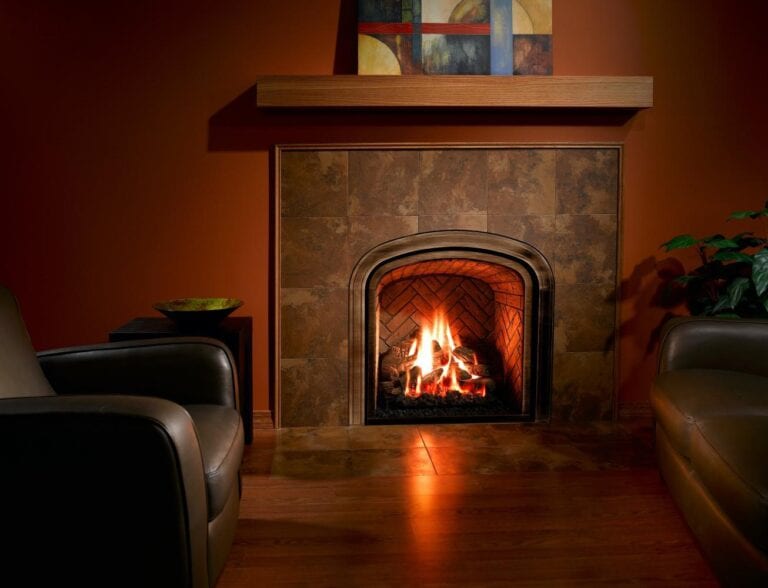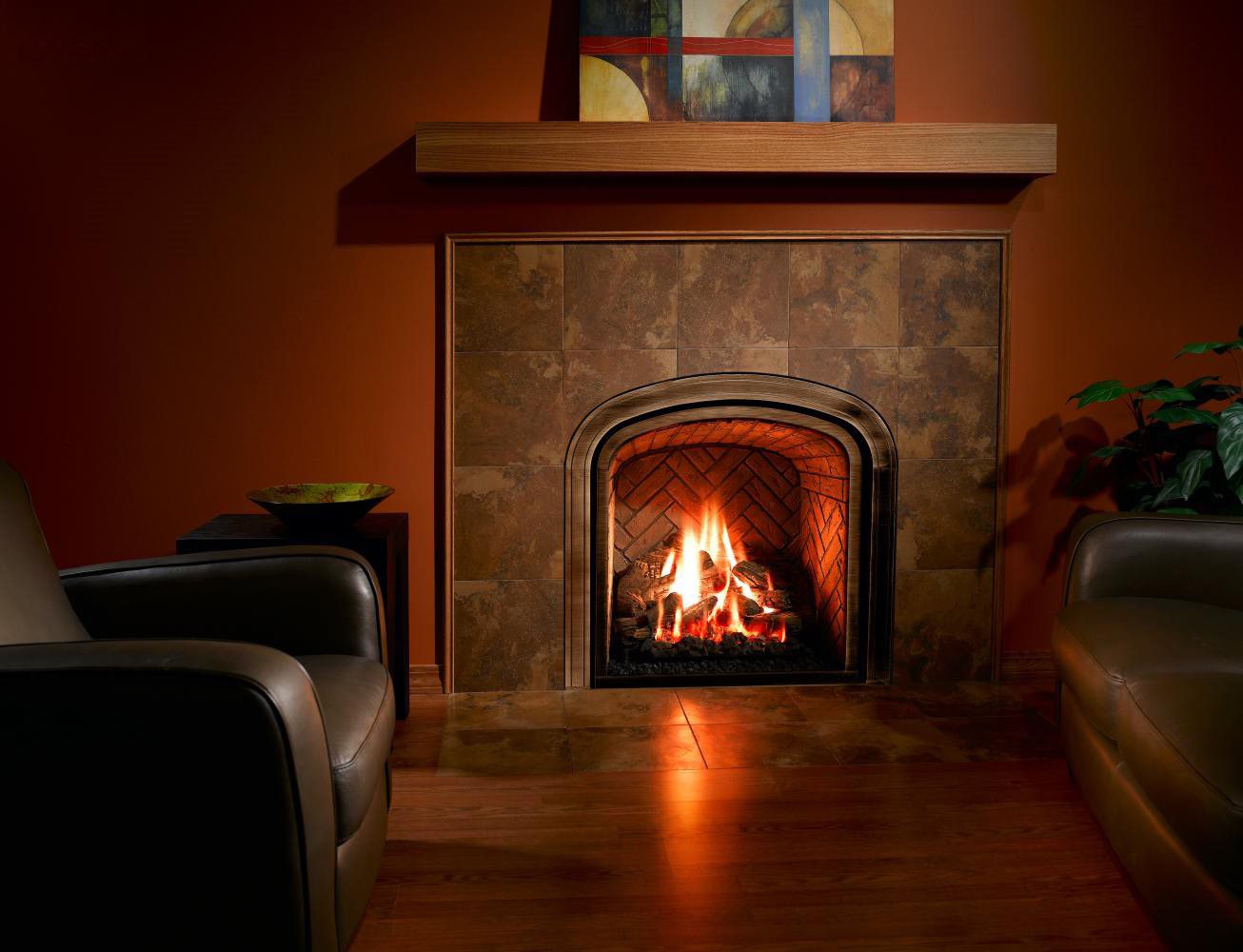 One of the best things about Mendota fireplaces and fireplace inserts is the sheer variety of options that let you personalize the look of your fireplace for your style and home decor.
Shapes
Mendota offers a variety of gas fireplace models in square, rectangular, arched, or linear designs to work well with traditional, contemporary, or modern styles.
Front/Door
From antique copper or vintage iron to aged leather and oil-rubbed bronze, Mendota fireplaces offer a wealth of front and door options to make your own unique statement.
Log Sets
Whether you want your fire to look like traditional wood logs, or fancy, sleek contemporary options like river stones, marble, or liquid glass, you'll find options that work for you.
Interior Lining Options
From textured to smooth, flat to reflective, finish your fireplace in style with the perfect lining that makes your fire "pop."
Need some inspiration? Check out Mendota's idea gallery.
Practical Considerations When Looking for a Gas Fireplace
Now that we've shown you the beauty and versatility of Mendota gas fireplaces, it's time to look at some practical details. Whether you're shopping for a new gas fireplace or a fireplace insert, you'll need to consider your fuel and venting options before choosing the model that's right for you.
Fuel Options
Gas fireplaces can use either natural gas or liquid propane (LP gas). Natural gas is available in most urban and suburban areas, burns efficiently, and usually costs less than propane. Liquid propane is usually used in rural areas where natural gas is typically unavailable.
Venting Options
Direct Vent
A direct vent fireplace draws air from the outdoors to aid combustion and exhausts combustion fumes to the outdoors. The combustion system is sealed from the living area to ensure the highest air quality. This is especially important in newer, tightly insulated homes where dangerous gases can build up more quickly. Direct vent models require the installation of a pipe in an outside wall. Gas fireplaces can also be installed using an existing chimney that is properly lined for use with a gas fireplace.
Vent-Free
Vent-free fireplace models are designed to draw air and expel combustion exhaust into the room, rather than venting these gases to the outside. Vent-free models utilize an oxygen sensor that immediately shuts the unit off if the oxygen level in the room drops below 18%. Normal oxygen levels are around 21%. Vent-free fireplaces are illegal in many states and municipalities due to the possibility of dangerous carbon monoxide gas. Additionally, we do not recommend them to our customers here at LanChester Grill & Heath.
Mendota gas fireplaces are only available in direct vent configurations for maximum air quality and safety.
No matter which fireplace or insert you ultimately choose, your purchase is an investment in your home for years to come. Unlike computers, phones, or other modern electronics, your fireplace will be part of your home for a long time. That's why it's so important to weigh your options carefully and work with the experts to find the best option for your comfort and style.
At LanChester Grill & Hearth, we've been helping customers find the right fireplace for their needs since 1996. Visit our showroom in Gap, PA to see the Largest Mendota display in America! Or get in contact today to talk with our knowledgeable staff.