Having a warm, cozy fire in your home is an amazing experience; but imagine being able to transport some of that warmth to your outdoor living space. You've spent the time and money on the perfect outdoor kitchen or lounge, and now it's time to make it feel like your second home.
When you decide to make room for an outdoor fireplace, you should decide whether you want an actual fireplace or what is commonly known as a firepit. If your mind is set on the former, then here's what you need to know.
Types of outdoor fireplaces
Most outdoor fireplaces will mimic the characteristics of the indoor version (they'll have the firebox, flue, chimney, and hearth). Enclosed fireplaces are designed to be safe for nearly any foundation, so it's a simple matter to incorporate one into a new or existing outdoor space.
Aside from the difference in size and appearance, there's also the matter of fuel, which may dictate the design of the fireplace.
Gas fireplace
Gas fireplaces are the go-to for homeowners who are interested in hassle-free maintenance. These fireplaces won't be marred by smoke or sparks and are easy to clean. Another benefit of this option is the ease with which you can control the heat levels, allowing you and your guests to find just the right temperature for your evening outdoors.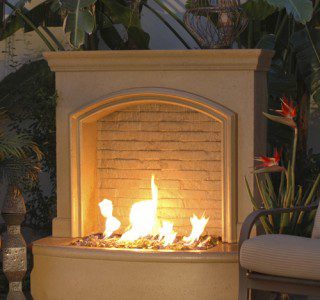 The only caveat is that you'll require the use of a gas line, so if one isn't situated near your outdoor living space then you may have some work ahead of you.
Wood-burning fireplace
Wood-burning fireplaces are rustic, traditional, and ideal for enjoying on a cold summer night. These are generally quite similar to standard indoor fireplaces, with all the same demands and components. If you don't mind cleaning your fireplace a bit more frequently and have a reliable supply of wood, one of these might be perfect for you.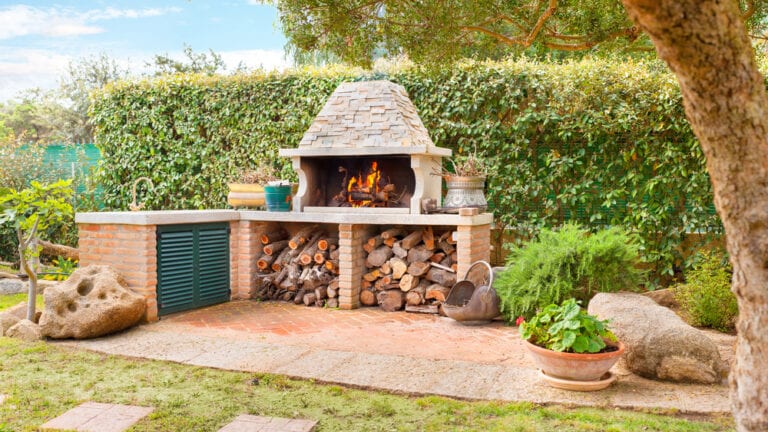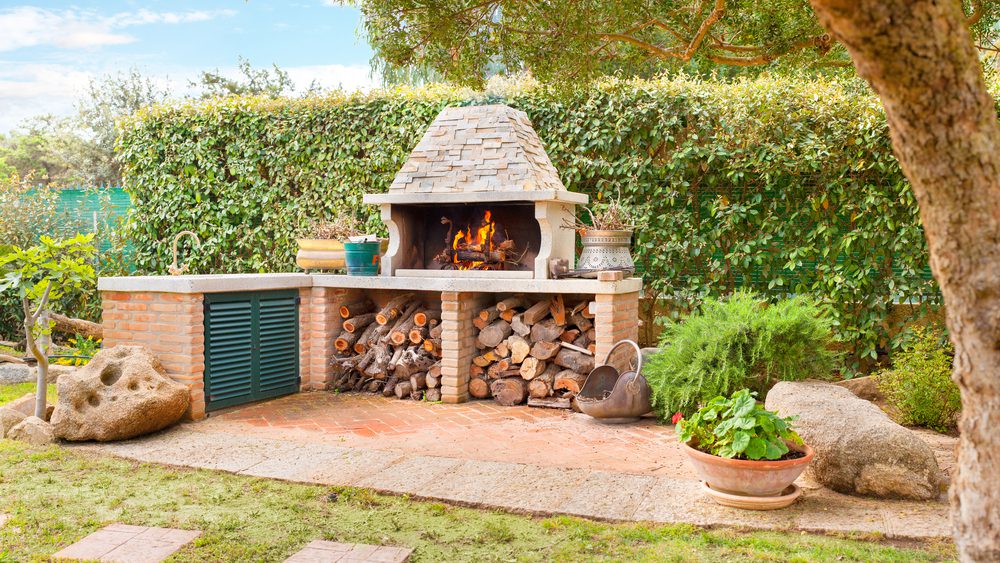 The smell of wood smoke just can't be replicated with gas fireplaces and if that's a sticking point for you, wood burning may be the way to go.
Metal and clay chimineas
Chimineas trade in traditional looks for style and utility. Not only are chimineas charming and easy to implement into any outdoor setting, you can also cook with most of them! Chimineas are a breeze to keep clean and offer long-lasting quality.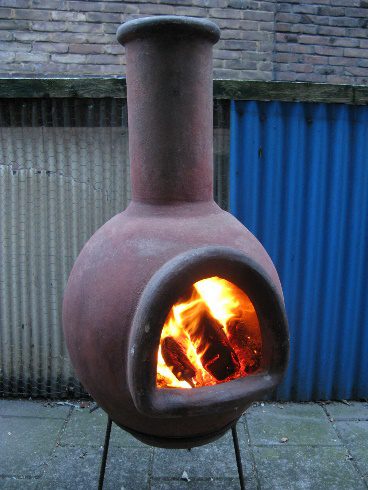 Best of all, they bring that wonderful, smoky wood fire to your outdoor space without the space requirements of a larger fireplace. These kinds of fireplaces are available in wood or ceramic.
Why you need an outdoor fireplace
Having an outdoor fireplace has the benefit of extending the length of the summer season considerably. This can put your outdoor lounge to use even in the colder nights throughout the rest of the year. A crackling fire on your patio or deck is just the thing you need to keep you and your family outside in each other's company.
Spaces with fireplaces also become inviting spots for recreation or even romance. Therefore, whether your home has a pack of energetic kids or is just you and your spouse, a fireplace can provide the perfect atmosphere for any fireside gathering.
Luckily, most outdoor fireplaces are built to withstand the rigors of being outside and in inclement weather. Their durability and design allow outdoor fireplaces to be set up in almost any location, although the design will dictate where the unit can be built—so keep that in mind.
Some of the basic benefits of installing or owning an outdoor fireplace include:
If you've already built an outdoor living space and have installed an outdoor fireplace, you can add significant value to your property.
You're creating a more inviting entertainment space for family and friends.
An outdoor fireplace will illuminate and warm up your nights outside significantly, and create an intimate atmosphere anyone can enjoy.
You'll want to decide if you're going to incorporate the fireplace into an outdoor space, and
specifically, on what surface you'll install it. The vast majority of outdoor fireplaces are designed for a number of locations, but it's important to install the appropriate spacers or foundation to ensure the fireplace doesn't get too hot and cause damage.
This can easily be accomplished by communicating with the manufacturer or checking your local laws and regulations for having a fireplace installed outdoors. After all, you want to make sure your new fireplace is a good fit for your new favorite home-away-from-home.