Pergolas have been around for centuries, and as their designs evolved, so too have the outdoor spaces in which they've been installed. These features have almost become a staple of beautiful landscapes and breathtaking outdoor living with pergolas.
As pergolas become popular, they also become more affordable; and if you're really handy, you may even be able to create your own as a summer DIY project. How you get it isn't as important as what the pergola can do for your backyard, of course.
A pergola has the power to radically change the way you see and use your outdoor space, so it's critical to consider how you might want the structure to affect your yard before deciding on one.
There are three distinct ways a pergola might influence the functionality of your landscape, and each of those differs in a number of ways. To get the most out of your pergola, see how this structure can provide definition, architectural beauty, or functionality back for your outdoor living space.
1. Creates a defined space
Even the most basic pergola has the ability to create an outdoor room with its roofing grid and strong support beams. This 'bare bones' shape is great for defining an outdoor living space or creating boundaries upon a deck, patio, or in the backyard. The beams and rafters of the roof could be left open or covered, providing a sheltered area that protects the space from ill weather effects.
This is perhaps one of the most relevant features of the pergola. Helping to define a previously ambiguous, open space can create that sense of enclosure, making you feel as though you have stepped into a new room or location just by stopping beneath its canopy of open wood beams.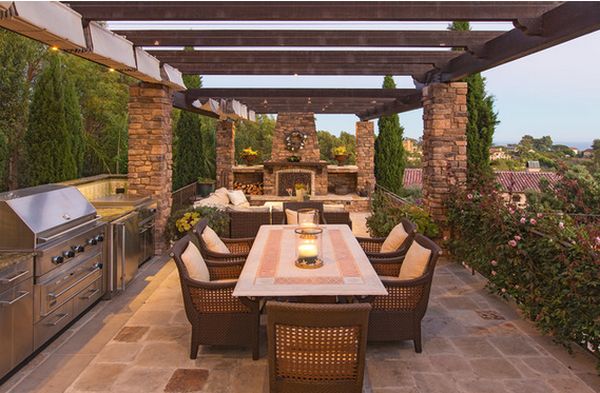 Some people use pergolas to give their outdoor kitchens a more enclosed feel or to provide further definition to such a space.
Because pergolas can be done in different styles and sizes, they can be built to suit a theme or destination, helping them blend seamlessly with the rest of the outdoor living space, whether it's for dining, lounging, or entertaining.
2. Provide partial or total cover over a deck, patio, or predefined space
Given that pergolas are a roof structure covered by beams, they can provide just the right amount of shade for other spaces too, such as a patio or deck.
When you already have a predefined space like a patio then you may be more interested in developing that location further—either by adding some degree of shade and cover, or introducing an element to create a more enclosed space. A pergola can be used to fill that need.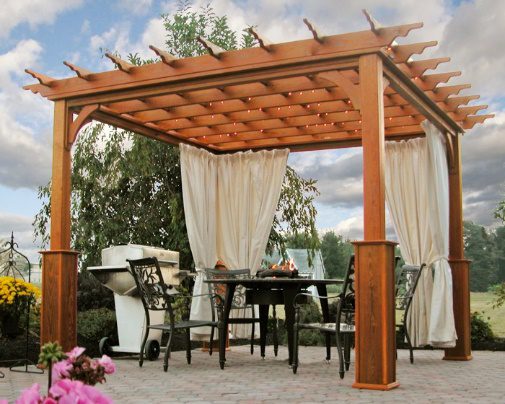 By introducing a pergola as a cover to your walkway, deck, or patio, you are essentially creating an outdoor room—a living space with some degree of enclosure that can be used even during inclement weather. Be sure you're using some kind of canopy along with the pergola.
3. Adds architectural interest to your landscape or backyard
Contemporary uses have seen pergolas utilized as arbors and walkway covers. Their versatile design allows them to be installed over walkways or long garden paths with ease, while their open design makes them perfect for creeping vines and flowers.
During the Middle Ages and the Renaissance, it was popular to have covered garden passageways called "green tunnels." These were covered in climbing plants and offered attractive places to walk or wait out the rain while you were outside. Today, the pergola has become a permanent architectural version of that classic garden staple.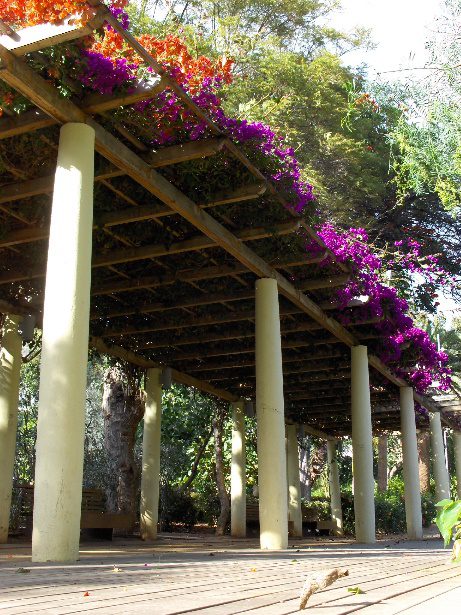 Popular climbing plants for pergolas include:
• Clematis
• Honeysuckle
• Grapevine
• Wisteria
• Climbing rose
• Trumpet vine
• Black-eyed Susan vine
Flora aside, pergolas offer something else to the space they occupy.
Because pergolas aren't typically covered, they create interesting patterns of light and cast the appearance of being lightweight and spacious. Their open beams allow more than adequate air circulation and keep the space just right, temperature-wise.
When you set out to install or build your dream pergola, start out by defining how you want it to integrate with your outdoor space. Defining its purpose will allow you to design it with that information in mind, which can save you time, money, and stress once the project is underway. There are many other ways a pergola can enhance your outdoor living space, so consider your intention carefully if you want to get the most out of the structure.