Imagine you're entertaining in your dream outdoor kitchen. The sun has set, the children are heading to bed, and the adults sit in your outdoor space having pleasant conversations. Pretty soon, it's dark, and you can barely see in front of you, much less your guests. The solution? Stunning outdoor gas torch lighting with a Tempest Torch wall-mount or post.
This dramatic, decorative outdoor gas lamp not only provides lighting to see your guests during evening entertainment but also necessary lighting to move around safely in the dark. Its stunning spiral flame provides a beautiful aesthetic that you simply can't get with an obtrusively bright LED floodlight. Best of all—you can get your very own Tempest Torch right here at LanChester Grill & Hearth in Lancaster, PA!
What is a Tempest Torch?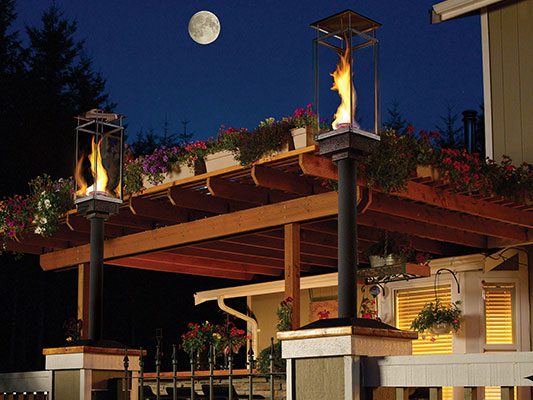 The patent-pending Tempest Torch by Travis Industries is a decorative outdoor gas lamp that adds warmth and ambiance to any outdoor living space. The design of this lamp creates a spiral flame that dances within the walls of tempered glass. It creates a natural venturi effect without the use of electricity or a fan. Using either natural gas or propane to fuel the fire, you can count on this outdoor wall lamp to provide the upscale elegance you want in your outdoor lighting.
Our Favorite Features
The Tempest Torch isn't just a beautiful decorative source of light for your home's exterior. The torch design is the perfect furnishing for a wide array of exterior settings and applications. From illuminating walkways and entrances to restaurants to providing necessary lights for outdoor entertainment, the Tempest Torch has many features that we love.
Beautiful Lit Flame
The spiral flame of this torch reaches a height of 17 inches and provides up to 20,000 BTUs. With four tempered glass sides of 18 inches, it creates a dramatic effect that you can't achieve with solar walkway lights. It's the ideal finishing touch for your outdoor kitchen.
Automatic Gas Safety Shutoff Valve
Another feature we love about this product is the automatic gas safety shutoff valve. Should the flame ever go out for any reason, the safety valve will shut off the gas to prevent any accidents.
Optional Rain Cap
When combined with the glass housing, the optional rain cap is designed to keep the flame lit during high winds and rain. So, no matter the weather, your Tempest Torch is likely to remain lit.
Easy to Clean
The glass housing is easy to remove, so you can simply take it off to clean it when it gets dirty. Or if it ever needs servicing, it's also not hard to get to the stainless-steel frame or burner.
Two Ignition Options
You can choose from an electronic ignition 24v model torch or the piezo igniter model. Best of all, you can use the electronic ignition with a light switch, remote control, timer, or smart home system. The piezo igniter features an easy-access control panel to light the torch and control the flame.
Installation Options
There are four choices to install your Tempest Torch in your exterior space:
No matter what you choose, you can guarantee that it will add the necessary upgrade to your space that you want!
Why You Need Outdoor Gas Torch Lighting
Outdoor wall lamps and gas torch lighting provides an elegant upgrade to your outdoor kitchen or other outdoor living areas. It allows you to entertain for longer, providing the necessary safety and security lighting you need in a fashionable design you want. Plus, the flames can attract fewer bugs, so spending more time outdoors is enjoyable. And since it runs on gas, if the power ever goes out, you'll still have available outdoor lighting.
Visit Our Showroom to View the Tempest Torch Wall-Mount Today!
The Tempest Torch wall-mount or other installation options are beautiful choices for your deck, patio, outdoor kitchen, or walkways. Not only does it provide necessary lighting when the sun goes down, but it creates a stunning ambiance that keeps away bugs and allows for entertaining long into the night. Contact us today for more information on the Tempest Torch, or visit our showroom to see this gorgeous light fixture in action!