A fireplace is a luxury item for your home. It is an exciting upgrade to your home's living spaces or a new addition to your favorite bedroom. Maybe your current fireplace is leaking cold air or challenging to maintain because it's wood-burning, and you just aren't using it as much as you'd like. A customized Mendota gas fireplace will fit your needs no matter what you want to accomplish.
At LanChester Grill & Hearth, we know how difficult it can be to pick out your new luxury fireplace. There are just so many beautiful options! For over 20 years, we've helped homeowners just like you get the perfect fireplace for their homes. Mendota products are the easy option when looking for something sleek that is stylish and comfortable across the board.
1. Mendota Has a Wide Range of Products
Mendota has a range of products that span across the visual and comfort goals of all homeowners. For a truly customized piece, there are a variety of shapes and front door options available so that you can choose from hundreds of combinations. There are also options for the interior lining of your fireplace and the log sets, so you can have one that's more traditional-looking fireplace insert or something that looks more contemporary.
They also have a temperature range suitable for different climates thanks to dials that can help you control how hot you'd like the fire to be. If you want an indoor fireplace for the ambiance but not so much heat, you can "turn down" the warmth and still enjoy the slow burn look.
You can view Mendota's photo gallery for some examples of the options available to you, or you can visit LanChester Grill & Hearth's showroom in Gap, PA, to browse the largest Mendota display in America.
2. Elegance Is No Question with Mendota Gas Fireplaces
You want a fireplace with beautiful functionality and a wow-factor that draws attention to the center of the room while also affording you the luxurious relaxation you need after a long day. We at LanChester Grill & Hearth understand that your fireplace needs to be elegant to bring together those pieces of functionality and relaxation.
When you choose a Mendota gas fireplace, you are investing in a comfort item that will upgrade any part of your home. Choose to install one inside, outside, or both—depending on your budget! Mendota has been the industry leader with its century-long tradition of quality and craftsmanship.
3. Mendota Gas Fireplaces Are Quality Pieces
Choosing a Mendota gas fireplace means you select the highest quality product on the market for your home. They are continuously seam welded, use 18-gauge aluminized steel for their outer casing, have NeoCeram® glass, and have stainless steel burner systems. They are superior quality compared to those fireplaces you might have straight out of the box at a home improvement store.
Mendota has the best warranty in the industry. Their gas fireplaces have a lifetime limited warranty on the firebox, heat exchanger, burners, and glass. Suppose you complete a certified installation and registration process on their website. In that case, they also offer an extra year warranty on parts service on top of their one- to two-year part warranties.
You will need to have your authorized Mendota dealers here at LanChester Grill & Hearth help complete the form and the final installation inspection checklist, so be sure to contact us for that extra year of warranty protection!
4. Built to Last
Modern technology allows us to cycle through things such as new phones, computers, or cars regularly. A high-quality gas fireplace is an investment, unlike other modern technologies, because it's a once-in-a-lifetime purchase that won't need a replacement through the lifespan of your home.
These luxury gas fireplaces can be custom-built for those who desire something unique to match the aesthetic of their home. Our experts at LanChester Grill & Hearth have the experience to both help you choose your fireplace and install it once you've made all the customizations you desire.
5. Safety Is Key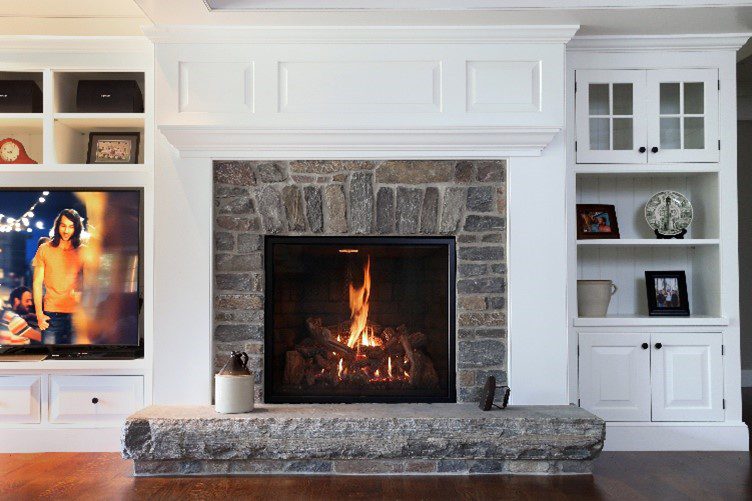 Mendota gas fireplaces are not only some of the most attractive on the market, but they are also highly safe. Certified ANSI/AGA safety tested, these fireplaces are highly efficient and well-ventilated.
They use direct vent technology, where the air is drawn from the outside to help with combustion, and then it releases combustion fumes back to the outdoors. This ventilation is critical in all homes, but especially in newer homes that are much more well-insulated. In a well-insulated home, toxic gases can build up if not adequately ventilated.
Direct vent systems usually require the installation of a pipe to the outside of the home. Still, they can be installed into an existing chimney system if the chimney is lined correctly for gas fireplace use. Because of this direct vent system, you can even have a Mendota fireplace installed in your bedroom safely.
Direct vent is not the same thing as ventless. Ventless fireplaces are dangerous and, in some states, even illegal because they emit toxic gases that can harm or even kill you. Mendota products can give you peace of mind that you are not inhaling dangerous gasses while enjoying your indoor fire.
Ready to Get a Mendota Product?
At LanChester Grill & Hearth, you will find the largest Mendota display in America so that you can get a feel for all the different customizations available to you. We've been helping homeowners find their perfect fireplaces since 1996, and we are excited to help you customize yours!
Stop by our showroom in Gap, PA, and look at all the options available for you to customize. Not sure where to start? Contact our knowledgeable staff today and let us help you choose the Mendota gas fireplace that will fit your home best!